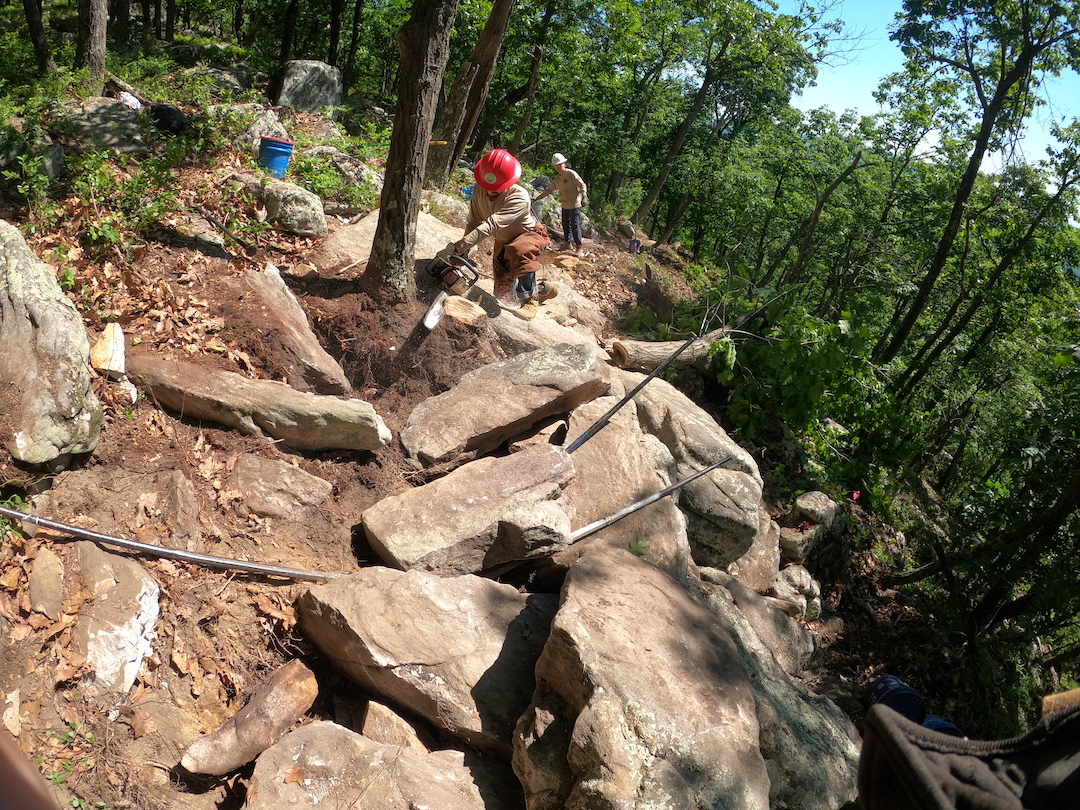 Putting Trail Accelerator Grants to Work at Cacapon
Nestled at the foot of the Allegheny Mountains in West Virginia's Eastern Panhandle is Cacapon Resort State Park. Built in the 1930s by the Civilian Conservation Corps, Cacapon has long been a destination for hikers, horseback riders, fisherman and golfers. Now the park is looking to add mountain bikers to that list.
Just a two-hour drive from major metropolitan centers like Baltimore and Washington, DC, Cacapon is ideally located to become the next center of mid-Atlantic mountain biking. To help them achieve this, the Cacapon Resort State Park Foundation applied for an IMBA Trail Accelerator Grant (TAG) in 2019.
Apply for the Trail Accelerator Grant
TAG funds are used specifically to assist communities with professional trail planning and consulting services. The park had already begun construction of a 2.2-mile beginner's trail designed to host National Interscholastic Cycling Association (NICA) races, but if more people were going to visit Cacapon to ride, the park knew it would. needed an overall view of the trail.
"The trails here in Cacapon are notoriously West Virginia," says Eric Fitzpatrick, Cacapon Resort State Park Trails Coordinator. "They are very rocky. There aren't many beginner tips.
Before building the NICA course, Cacapon had around 10 miles of existing singletrack to run, but the trails were built by CCC and, as such, decidedly technical. So when the IMBA announced Cacapon as one of the TAG winners in early 2020, designing a master plan with trail diversity was a key priority.
IMBA Trail Solutions Program Manager Steve Kasacek was instrumental in the design phase of the project. Together, IMBA and Cacapon have put together a bike-optimized master plan that includes 30 miles of trails ranging in difficulty and style from flow trails to black diamond gravity trails and backcountry singletrack. Kasacek says the park's master plan builds on CCC's heritage by launching modern, machine-built trails with classic hand-built rock gardens, nursery walls and bike-optimized chutes. The IMBA is currently working with volunteers from the Appalachian Conservation Corps and Cacapon to complete construction of Thunderstruck, a gravity trail funded by Recreational Trails Program (RTP) dollars. Following the completion of Thunderstruck later this year, the community will begin another RTP-funded trail build, the momentum Cacapon hopes to build from will help secure future funding for the construction of the entire trail master plan. .
Finding funding for such a large project can be difficult, but the community of Cacapon hopes to find an opportunity through the Economic Development Administration (EDA). A coalition of stakeholders, including the West Virginia Department of Natural Resources, the Morgan County Commission, the West Virginia Department of Tourism, the Brad & Alys Smith Outdoor Economic Development Collaborative at the University of Virginia- West (WVU), Region 9—Eastern Panhandle Regional Planning & Development Council, and a group of local friends recently prepared and submitted a funding application for $3.5 million in EDA grants. The grant is part of the EDA's U.S. bailout and falls specifically under the Travel, Tourism, and Outdoor Recreation program.
"I love the partnerships and the partnerships that are involved in making this project happen are really strong," says Kasacek. "It will be a huge boon for this region."
"The Cacapon Project underscores the importance of bringing together a diverse group of advocates and professionals to not just develop a plan, but to implement that plan," says Richard Edwards, outdoor recreation infrastructure coordinator at the Brad Collaborative. & Alys Smith Outdoor Economic Development of WVU. "The future is bright for West Virginia, the Eastern Panhandle and the Cacapon District thanks to forward-thinking advocates with vision and bringing a collaborative group of experts to the table."
Interested in Capon? Join friends and stakeholders of Cacapon on the weekend of September 24, 2022. Visitors will be able to officially ride Thunderstruck and learn about the latest developments in trail construction in the park.
This blog is the second in a three-part series about the people and processes behind the latest Cacapon trails. Stay tuned for the third and final blog, in which we chat with IMBA Community Engagement Specialists Joey Klein and Chris Orr, who have been on hand at Cacapon to train the next generation of trail builders.