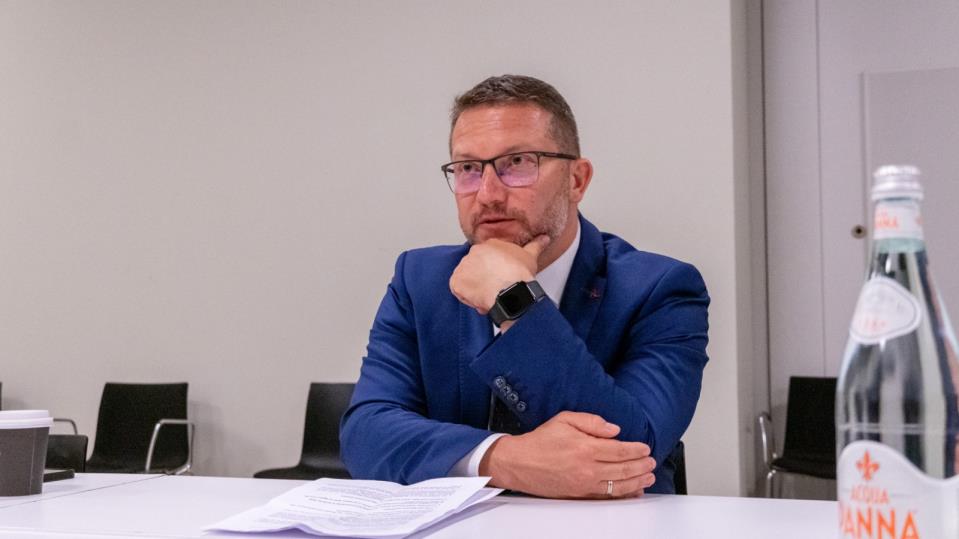 Malta should focus on events, cultural tourism, not mass tourism – EP official
Malta should put more emphasis on event and cultural tourism that can be attracted all year round, rather than mass tourism, said a Hungarian MEP who works specifically in tourism. The Malta Independent Sunday in an interview.
Istvan Ujheli, originally from the Hungarian Socialist Party (MSZP), is Vice-Chairman of the European Parliament's Transport and Tourism Committee and was in Malta as part of the Mediterranean Tourism Forum, organized by the Malta Association of Hotels and Restaurants .
Asked about his opinion on Malta's tourism sector and the direction it should take, Ujheli warned that as Malta is a small island, focusing exclusively on mass tourism can be dangerous as it could lead to a overcrowding as tourists and people who live in Malta will become more and more unpleasant.
He went on to say that it is important to have tourism over the 12 months of the year, which can be achieved through tourist and cultural events organized between September and May.
"Malta are more than capable of doing this," Ujheli said.
He said he has met several talented and smart Maltese with innovative ideas that can build the industry.
Ujheli also said educational programs are of great importance. He said that although he cannot provide many details on the matter, he and other Maltese stakeholders are working with international organizations to establish new educational programs in Malta for locals and foreigners to work. in the service sector.
Asked about the recovery of the tourism sector after the Covid-19 pandemic, Ujheli said it was necessary to realize what happened in the last decade: a financial crisis a little over 'a decade of no support for the industry, followed by the collapse of Thomas Cook which affected tens of thousands of people working in tourism, the Covid-19 pandemic and now the war in Ukraine.
"We have no European crisis management mechanism. Nothing! This is one of my main proposals to the European institutions: that we need a concrete crisis management mechanism. Yes, the national government has a duty to do something, but when we are in a global crisis it is not enough to have national responses," he said.
Ujheli added that there is a need for a sustainable financial system for tourism in the European Union, noting that the sector has only been recognized as its own industry by the EU for the first time this year, despite the fact that it employs 23 million people and represents 10% of European GDP.
Third, education and skills are an important part of pandemic recovery, Ujheli said. "We know very well that because of Covid-19, a large part of the staff has left the industry and no longer want to return because they fear its instability," he noted.
When asked if it was time for pandemic-related travel restrictions to be further relaxed, Ujheli noted that the night before this interview, the EU had agreed that the EU digital certificate could be used. for another year, adding that the certificate itself is a "revolution" from a technological point of view.
"We really need the full opening of the transport sector to tourism in the next few months," Ujheli said, however.
He said there were wealthy tourists from third countries such as China, the United States and India who were eager to travel every month of the year, but were still waiting for instructions on how to get there. Europe.
Asked, finally, about his understanding of the concept of sustainable tourism, a term that has become one of the latest buzzwords in the political sphere, Ujheli said he really hopes it will not just be a "fad". passenger.
He said it's normal that such things get little concrete action, but said this time it had to be different and the action had to be real and tangible.
"If we have dreams without any concrete information to back them up, it can be very dangerous," he said, before adding that the European Green Deal must take this into account.
He added that when talking about sustainable tourism, consideration should also be given to how SMEs and family businesses can achieve this, as they do not have the money to finance many of the green solutions that d other companies can.
He pleaded for the creation of a European fund to help SMEs and small businesses to be greener and more sustainable.
Ujheli was in Malta as part of the Mediterranean Tourism Forum, which was held in Malta last week and brought together the best minds in tourism to chart the future of the industry.