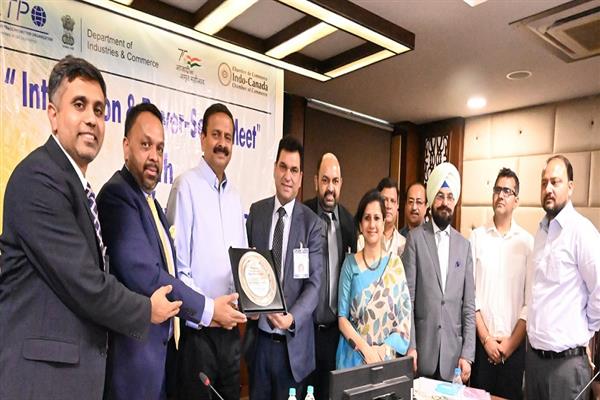 JKTPO and ICCC will work in partnership to improve bilateral trade between India and Canada
JAMMU, APRIL 04: (KNS) A delegation from the Indo-Canadian Chamber of Commerce (ICCC) visited Jammu to discuss investment and trade opportunities with a focus on J&K exports to Canada as well as creating business opportunities for Indian start-ups and MSMEs in Canada.
Principal Secretary for Industries and Commerce, Ranjan Prakash Thakur, described J&K as a hub of exponential opportunity and virgin territory in terms of global attention and investment. He pointed out that J&K has huge potential in the hospitality and tourism sectors.
MD, JKTPO, Ankita Kar, presented UT's views, policies, incentives and potential export products during an interactive session with the delegation with a particular focus on GI products.
Indo-Canada Chamber of Commerce President Ripudaman S. Dhillon said the focus would be on sectors such as agriculture, hospitality, immigration, real estate, IT information, infrastructure, etc. All these sectors have incredible potential to play a key role in the growth story of strengthening trade relations between the two countries, he added. He further said that the growing interest of the Indo-Canadian Diaspora in "Made in India" products will also encourage Canada to further strengthen its trade ties with India, especially J&K's unique products having a huge market. and appreciated all over the world. He invited JKTPO to start a helpdesk in Canada.
The event focused on investment and export promotion as well as facilitating business linkages and direct dialogue between the Indo-Canadian delegation and its extensive network with J&K industry representatives.
Discussions focused on export promotion of traditional J&K exportables like saffron, Basmati rice, Pashmina and Kani shawls, carpets, honey, Kashmiri chili, nuts, as well as innovative ideas like medical tourism.
On occasion, women entrepreneurs, start-ups and exporters presented their products and services from sectors such as education, loom and handicrafts, agro-food and horticultural products to the delegation which received an overwhelming response.
Other proposals discussed include Indian foods and value-added products in Canada, investments in joint ventures by Indian businessmen in Canada, import of economical but quality products from J&K.
Mukesh Thapa, JKTPO Managing Director, Chaitanya Sharma, Director, Operations and Other JKTPO Officials and Arun Gupta, President, JCCI, Gourav Gupta, Secretary General, JCCI, Anil Gupta, Senior Vice President, JCCI, Ravnish Gulati, Immediate Past President, CII J&K, Manik Batra, Chairman, ASSOCHAM J&K, Lalit Mahajan, Bari Brahamana Industries Association, Abhay Pargal, LJK Economic Growth and Development Dialogue (LEAD) as well as representatives of key industry associations were present for the occasion. (KNS)