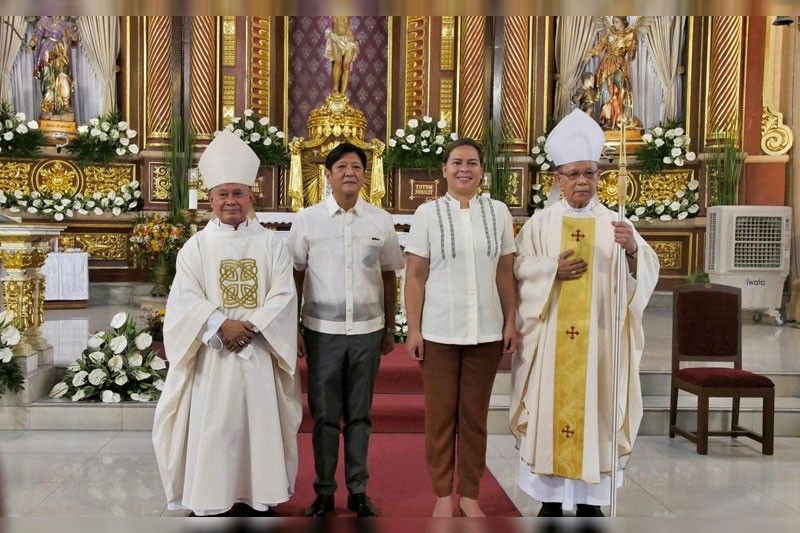 First day of work: Marcos, Sara and the Cabinet attend mass
MANILA, Philippines — As they assume the nation's highest offices, President Marcos and Vice President Sara Duterte should emulate the Good Shepherd's "listening leadership and life-giving leadership," the government said yesterday. Archbishop of Manila Jose Cardinal Advincula during a mass attended by the two leaders.
The mass was held at the parish church of San Miguel, near the presidential palace. In his homily, Advincula also called on Filipinos to support the country's new leaders.
Also present during the Mass were the President's Special Assistant Anton Lagdameo, Welfare Secretary Erwin Tulfo, Justice Secretary Jesus Crispin Remulla, Chief of Staff of the Presidential Directorate Naida Angping, Interior Secretary Benhur Abalos, Tourism Secretary Christina Frasco, Migrant Workers Secretary Susan Ople, National Economic and Development Authority Director General Arsenio Balisacan, Labor Secretary Bienvenido Laguesma, Transportation Secretary Jaime Bautista, Solicitor General Menardo Guevarra and Agrarian Reform Secretary Conrado Estrella III.
"As we gather in our offices and boardrooms to ask questions in our heads, may we be mindful of our people asking questions on empty stomachs… May we be leaders who listen our people, especially the poor and marginalized," he said. .
"Jesus Christ is also a life-giving shepherd, a life-giving leader. He desires his flock to grow in abundance and fullness of life, and he does this by laying down his own life for his sheep. He did not come to be served, but to serve," he added.
Advincula also instructed government leaders to seek the good not just for particular individuals or groups, but for the nation as a whole.
"Guided by truth, driven by charity, and passionate for justice and peace, may you expend yourselves in service of the common good," he said. Advincula, meanwhile, urged Filipinos to rally behind the newly elected leaders.
"To our compatriots, in the spirit of bayanihan, let us together love and serve our people. Let us pray for our leaders; let us support their great and good intentions and initiatives. They need our prayer and cooperation for their efforts to bear fruit for the good of all of us," he said in Filipino.
Meanwhile, Marcos yesterday received several envoys from different countries, including Vo Thi Anh Xuan, Vice President of Vietnam; Dato Seri Setia Haji Erywan Bin Pehin Datu Pekerma Jaya Haji Mohd Yusof, Second Minister of Brunei; Say Samal, Minister of the Environment of Cambodia; Raikumar Ranjan Singh, Minister of State for External Affairs of India; Kweon Seong-dong, floor manager, People Power Party of South Korea; Phoxay Khaykhamphithoune, Deputy Minister of Foreign Affairs of the Lao People's Democratic Republic; and Richard Graham, UK Trade Envoy. –Robertzon Ramirez