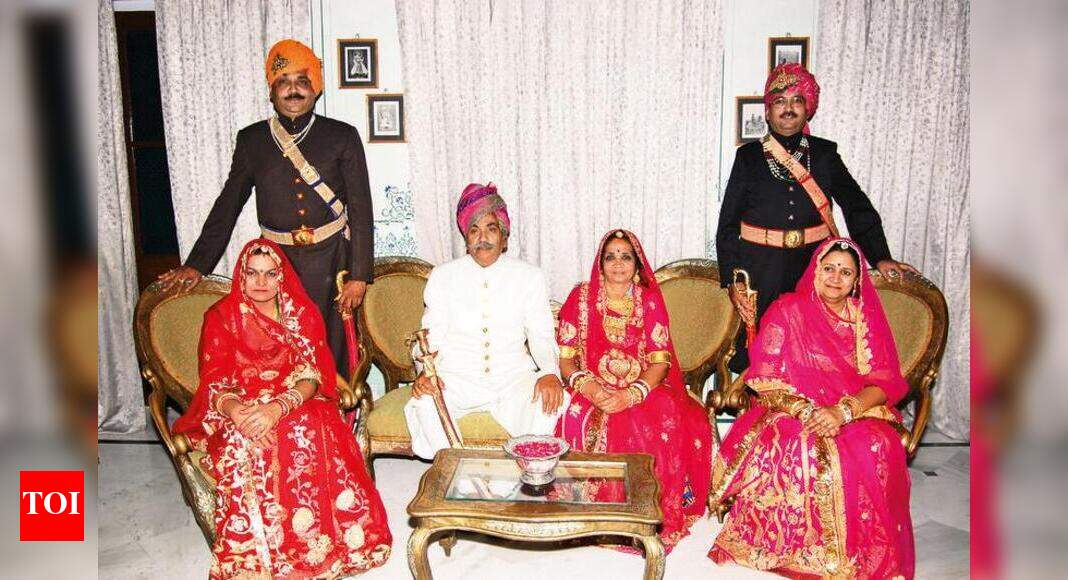 "As Thakurs we have always felt a moral duty to work for people" | Jaipur News
[ad_1]
After independence, Pachar's rulers were among the first to cede their territory. They lost power, but never thought of leaving their people.
"When I was 21, my father and grandfather sent me to Gujarat to learn business because opportunities were limited in Rajasthan," says Rajendra Singh Pachar, who owns and operates eight hotels and has built more. of two dozen residential and commercial spaces. .
The possibility of doing a job was always there. Rajendra, a post graduate in history, could have found one. But his father and grandfather had other moral obligations.
"If you want to develop your village or your company, you have to go into business. With one job, you can fill your stomach, but others cannot. As thakurs, we have a greater moral responsibility towards our people, the system may be gone, but the spirit and the service should not die ", said Rajendra quoting his father Thakur Sarkar Shiv Nath Singh.
Initially, he embarked on the construction of smaller projects in Rajkot, Vadodara and Baroda. The Land Ceiling Act opened up a few opportunities that it cleverly seized. But the desire was to return to the native land.
He returned to Jaipur in 1988 and built residential and commercial projects employing Gujarati architects and contractors while real estate had yet to take off in Rajasthan.
As the real estate business took a regular course, Rajendra was intrigued by the idea of ​​converting his family palace in Pachar into a heritage hotel. "We wanted to preserve our ancestral history and make it known to the world. This led us to convert the Pachar family palace into a heritage property in 1995. It was unthinkable as a business idea to have a hotel in a rural location at that time. There are 13 rooms and we haven't fiddled with their authenticity. Today it's a great place for foreigners and for film shoots, "he says.
In the success of heritage property, he saw an opening to reconnect with his cultural heritage and the people of rural areas. In 2003, he teamed up with family friend Rajadhiraj of Achrol to convert their residence at Jaipur Hari Mahal Palace into a heritage property.
"Coming from a royal family, preserving the heritage for posterity had another satisfaction. Earning money was not the driving force. If you work, you will earn money. We make money with real estate, "says Rajendra.
Soaked in the idea of ​​heritage with the rural people who drive it and benefit from it, he embarked on another mission to build green hotel projects to boost village tourism. A chain of Aaram Bagh and Aaram Mahal was pinned to the ground.
In 2007, together with his brother Jitendra Singh, he built Aaram Bagh Pushkar depicting historical events, monuments and cultural symbols from 3000 to 5000 BC. The property has quarters dedicated to Egyptian, Greek, Persian and Chinese civilizations. Two are in preparation. In Udaipur Aaram Bagh, he tried out the architecture which traces the Vedic period, from 10,000 to 3,000 BC. The Hindu heroes of the Mughal period revel in the canvas of Aaram Bagh Agra. Two other properties, one each at Maheswar (500 BC).
"Before creating these historic themed properties, I researched them and traveled to these countries. I saw the monuments with my own eyes, traveling by tram and train, and often walking and taking pictures, "recalls Rajendra.
Rajendra, who has been a member and convention organizer of the Indian Heritage Hotels Association, says, "Heritage hotels have created a new market for rural people. They revived traditional crafts, art forms, textiles, cuisines and cultural practices. In addition, these properties have contributed to the promotion of the royal heritage of Rajasthan.
But there are links missing. He said the government needs to improve infrastructure to realize the full potential of heritage and rural tourism. "These heritage hotels are scattered throughout the countryside of Rajasthan, where road connectivity and a continuous supply of electricity are always a concern. The laws and the land conversion process are stifling. Heritage and rural tourism are essential for boosting rural employment and economy in Rajasthan, "Rajendra said.
Unlike modern hotels, heritage properties require more resources for upkeep and maintenance. "We asked the state government to allow us to pay for electricity at industrial rates. Hotels have been classified as industrial and electricity should not be billed at commercial rates. This will help us reduce our operating costs to spend on maintaining these centuries-old structures, "says Rajendra.
[ad_2]