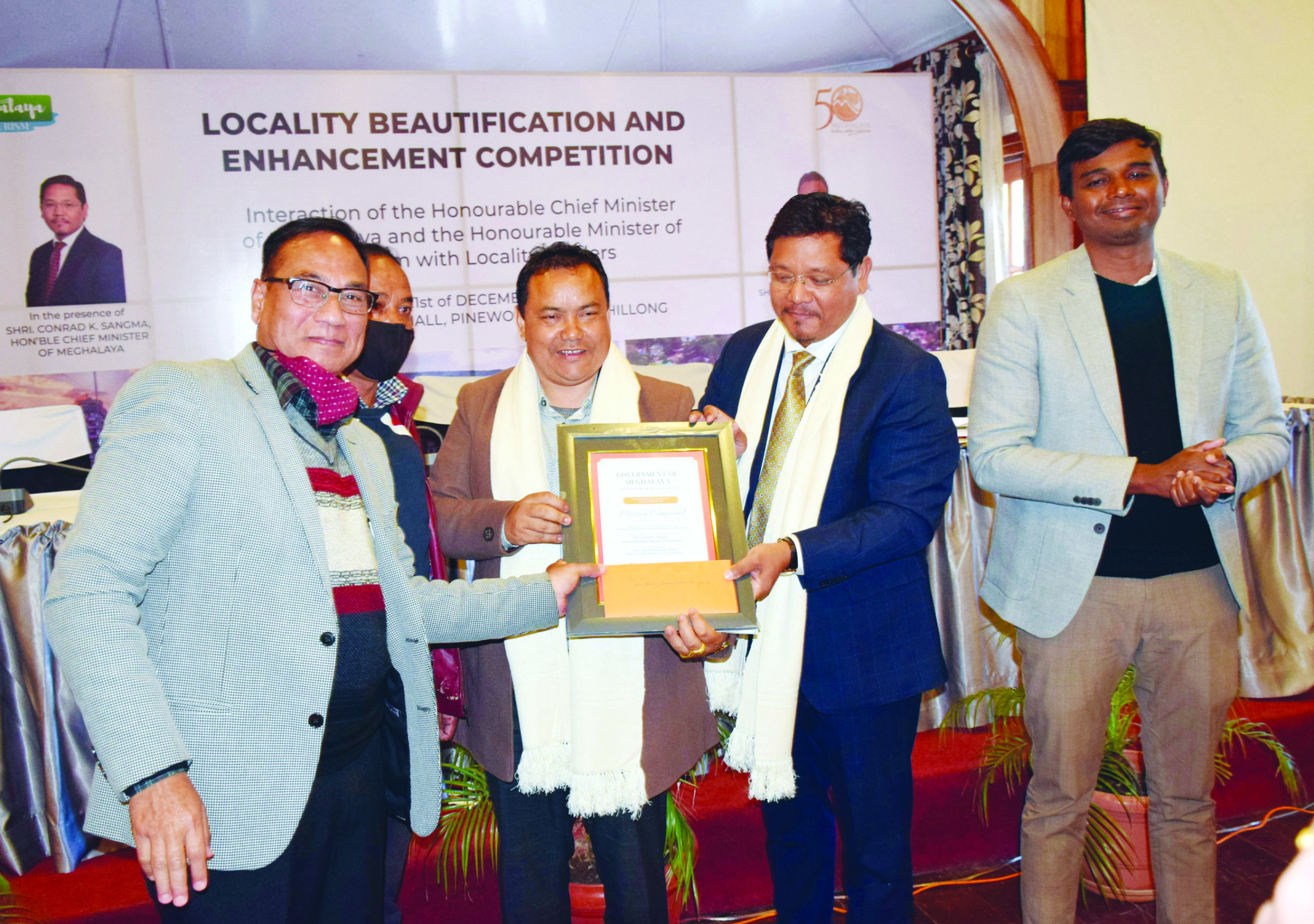 34 towns in the city get funding to work on a beautification plan
SHILLONG, December 21: No less than 34 localities in Shillong received funds on Tuesday to help them carry out various activities as part of a Meghalaya government project to beautify and enhance localities in different parts of State.
These 34 localities received checks totaling Rs 1.5 crore from Chief Minister Conrad K Sangma and Minister of Tourism Sniawbhalang Dhar at a small reception here on Tuesday. In addition, checks in the amount of Rs 5.40 lakh were delivered to eight localities in Jowai.
An initiative of the Ministry of Tourism, the project has been named "Local beautification and enhancement competition", under which the ministry will carry out various activities, competitions and projects in the respective localities and dorbars to beautify and enhance enhancing localities, empowering community institutions and making them welcoming to tourists. These activities include painting compound walls, whitewashing work, repairing walls and publicly visible surfaces, painting exterior walls of houses and street art, among others.
In its pilot phase, the competition is limited to the localities of Shillong, Tura and Jowai respectively in East Khasi Hills, West Garo Hills and West Jaintia Hills.
In particular, the checks were given as catalytic funds so that the people residing in these localities could carry out the activities and projects necessary to participate in the competition. For the project, the evaluation of the competition will include different components within a specific framework.
Chief Minister Conrad K Sangma, in his speech, stressed the need for people to start to take a sense of ownership of everything. "In our company, we already have this feeling of belonging. But somewhere along the line, when it comes to government assets, the sense of ownership disappears, "the CM said after handing over the first installment of the sanctioned amount to various localities that had submitted the proposal as part of beautification of the locality of Meghalaya and improvement competition.
Pointing out Japan while calling it a role model for citizens here, the CM said that in Japanese culture, citizens respect everything whether government or public property.
"The Japanese still believe it is their duty to take care of every asset, whether it is government or private assets," Conrad said.
He said the aim of this program is to bring a sense of ownership among the people with the active participation of traditional organizations like Dorbar Shnong. "We need the active participation of everyone to give a facelift to the three urban centers – Shillong, Jowai and Tura," said the CM.
According to him, the feeling of belonging is accompanied by a feeling of participation. "This is why we have brought everyone together under one platform to participate so that we can change the face of these three urban centers. We may not be able to get back to where it was. But somewhere we have to start, "he said.
He said this concept came with the celebration of the 50th State Day in mind. (Suite P-4)
34 towns in the city receive funds …
(Continued from P-3) "We wanted to involve people in the celebration. We also need to realize that we can do things in limited ways. But if society and community come together, then the reach is unlimited, "Sangma said.
According to him, this is a program where they will encourage the entire process of maintenance and beautification of the city and especially the localities at the base. "We really envisioned a lot of things within the limited budget we have. We may not be able to do it all at once. But at least we can start. Different localities have different amount and it is not a uniform amount as it depends on the proposal and the activities that each of the Dorbar Shnong mentioned, "Sangma said.
Chief Secretary RV Suchiang and Commissioner and Secretary Vijay Kumar were also present on the occasion.